Fixturing concept principle
The OK-VISE Fixturing Concept features a range of components that are suitable for clamping different workpiece types, sizes and materials on all types of workholding platforms and machining centers.
The concept is based on the benefits of the OK-VISE low-profile clamp: adaptability to various workholding concepts, extreme clamping force, stability and small size.
All systems in the OK-VISE Fixturing Concept include the following modules
Clamp modules based on OK-VISE low-profile clamp.

Stop modules. Clamp presses the workpiece against stop modules, creating either friction or form closure to hold the workpiece while machining.

Side guides. These enable easy loading of workpieces.

Riser blocks / parallels. These are used to lift up the workpiece from fixture base.

Floating units 

clamp the workpiece in place, without moving it against any fixed stop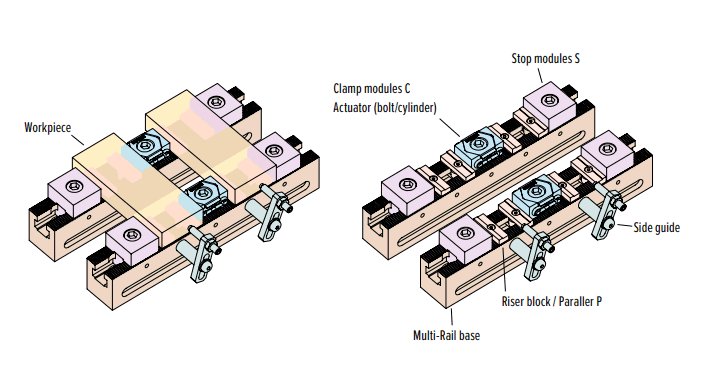 All modules of the OK-VISE Fixturing Concept are reusable
Therefore, life cycle cost of OK-VISE modules is low so using OK-VISE is a step towards sustainable production.
Our Blank System is a system for building dedicated workholding (workpiece-specific fixturing). Normally only one setup of one workpiece can be clamped with these fixtures.
A second option for fixturing is to use a modular workholding system. A modular system easily adapts to various workpiece sizes, and the components of these systems can be reused and simply reconfigured for a variety of applications and workpieces.
Most fixturing cases can be built using both of these concepts.